A Guide to the Ceremony
BLESSINGS
Our Sages, when they established the Sheva Brachot (Seven Blessings) that are recited at weddings, did not just put together a string of blessings. But it is rare, even in standard weddings, that the significance of these blessings is pointed out.
We have taken the ideas found in these blessings and recast them as hopes and prayers for our union. We have not phrased them in the traditional form of brachot-blessings, because the Orthodox Jewish view of brachot is that we no longer have the authority to create them.
We stand under the chuppah, which symbolizes the Jewish home, and our friends recite the blessings which follow:


Wine is used in Jewish ritual as a symbol of significance. We bring Shabbat and festivals in with wine and we return to the new week with wine. Wine was an important part of the daily worship in the Temple, and will be again. It is a strong custom in Judaism to say Birkat Ha-Mazon (grace after meals) over a glass of wine when in the company of a large group of people. By doing so, we bring all who have eaten together, and create ourselves as a community.
The first of the Sheva Brachot during a Jewish wedding ceremony is the blessing over wine. When the Sheva Brachot are said after a meal, this blessing comes last, as a means of including the other blessings in Birkat Ha-Mazon, but at the ceremony itself, it serves to introduce the following blessings.

BARUCH ATA ADONAI ELOHEINU MELECH HA-OLAM, BOREI PRI HA-GAFEN.
YOU ARE BLESSED, HASHEM OUR GOD, SOVEREIGN OF THE UNIVERSE,
WHO CREATES THE FRUIT OF THE VINE.
The person who says this blessing drinks, but leaves half of it in the cup, alongside the previous cup.


Our Sages teach us that it is forbidden to derive benefit or enjoyment from this world without saying a bracha (blessing). For this reason, no Orthodox Jew will eat without saying the blessing which is appropriate for the food being eaten. The lesson here is the basic idea of gratitude. God has no needs, and as such, the creation of our world was an act of purest benevolence. Everything God creates reflects this, and when we come to celebrate something as joyful as the the marriage of two people, we must always remind ourselves that it is God who gave us the opportunity to experience such joy.

YEHI RATZON SHE-K'SHEM SHE-ZACHINU L'HIBAREI LICHVOD HASHEM,
KACH NIZKEH L'HAMSHICH BIDRACHAV U-L'TAKEIN OLAMO B'EMUNAH
MAY IT BE HASHEM'S WILL
THAT AS WE HAVE MERITED BEING CREATED TO HIS GLORY,
SO MAY WE MERIT TO CONTINUE IN HIS WAYS
AND TO IMPROVE HIS WORLD FAITHFULLY.


The world is full of different kinds of people. There are Jews, non-Jews, gay people, straight people, people of different opinions, different cultures, different values. With all the differences that exist among us, it is sometimes easy to forget what we have in common.
When God created the human race, He could easily have created a large number of people. Instead, He created a single person, from whom we are all descended, and in doing so, taught us the lesson that we are all One.
Imagine how different the world would be if we would remember this lesson. If when faced with someone who seems different from us, we would remind ourselves that for all the differences between us, we are still all family. People can disagree on any number of issues, rightly or wrongly, but if we would only remember the basic humanity of even those we disagree with... Imagine what a world that would be.
No two people will ever agree on everything When two people marry, they can allow their differences to come between them, or they can use those differences to complement each other; to let the strengths of each fill the weaknesses of the other. To honor the experiences and opinions that each of them brings to their union, and in doing so, to create something greater and stronger than either of them had alone.

YEHI RATZON SHE-K'SHEM SHE-NIVRANU ADAM ECHAD IM TECHUNOT SHONOT,
KACH NILMAD L'CHABED ET HA-SHONEH B'ACHERIM,
V'LIZKOR TAMID ET HA-MESHUTAF SHE-BEINENU.
MAY IT BE HASHEM'S WILL
THAT AS WE WERE CREATED A SINGLE PERSON WITH DIFFERENT QUALITIES,
SO MAY WE LEARN TO HONOR THE DIFFERENCES IN OTHERS,
AND TO REMEMBER ALWAYS WHAT WE HAVE IN COMMON.


One of the first things God said concerning mankind was: "It is not good for a person to be alone" (Genesis 2:18). It follows, then, that two people coming together in love and joy is a good thing in the eyes of God. We, as Orthodox Jews, strive to act in a way that accentuates our having been created in God's Image. We seek ways to come closer to God by finding that Image within us and trying to emulate it. The most significant of all God's Attributes is that of Creator. It is with this Attribute that the Torah begins, and it is God's status as our Creator that entitles Him to our obedience.
When two people marry, they create something more than themselves, and in doing so, they re-enact God's creation of the world. The building of a family unit is the foundation of the Jewish People, and of the entire human race. It is by building a family that we leave our legacy in the world and make it a different and better place than we found it. And it is by raising children within this family unit that we join with God in the act of Creation.

YEHI RATZON SHE-K'SHEM SHE-ANU EIDIM HA-YOM L'ZIVUG ZEH,
KACH NIZKEH LIR'OT BIVNIYAT BAYIT NE'EMAN B'YISRAEL.
MAY IT BE HASHEM'S WILL
THAT AS WE WITNESS THE JOINING OF THIS COUPLE TODAY,
SO MAY WE MERIT SEEING THE BUILDING OF A FAITHFUL HOME IN ISRAEL.


We believe, as Orthodox Jews, that God desires what is good for us. The lore of our people speaks of God celebrating the marriage of Adam and Eve in Eden and rejoicing with them. We believe that God wants us to be happy, but we are not a nation of pleasure seekers. There are things that come before our personal happiness.
The Jewish People is in Exile. The majority of the Jews in the world live outside of our own land, while the majority of even those who live here are estranged from the Torah that is the raison d'etre of our nation. Our joy can never be complete as individuals so long as this is so. King David wrote in Psalms (137:5): "If I forget you, O Jerusalem, may my right hand wither." It is customary at Jewish weddings to break a glass immediately following the Sheva Brachot, as a way of reminding ourselves that what should be of greatest value to us has been broken. By returning to live in Israel, we have taken a step towards returning the Jewish People to itself. We have committed ourselves to the rebuilding of Zion, both in a physical and a spiritual sense. But it is fitting, at this time of our greatest joy, that we recall how much work still remains to be done.

YEHI RATZON SHE-K'SHEM SHE-ZACHINU LA'ALOT L'ERETZ
ASHER NISHBA HASHEM L'AVOTEINU LATET LANU,
KACH NIZKEH LIR'OT B'SHUV HASHEM ET SH'VUT AMO B'SHALOM.
MAY IT BE HASHEM'S WILL
THAT AS WE HAVE MERITED GOING UP TO THE LAND
WHICH HASHEM PROMISED OUR FOREFATHERS TO GIVE US,
SO MAY WE MERIT SEEING HASHEM RETURN HIS PEOPLE IN PEACE.


Of all the things which God has created and given to us as gifts, none compare to the gift of love. Poems have been written, songs have been sung, but none of them can truly capture the joy that comes with finding that one person you were meant to love and be loved by. The one whose soul completes your own. Your beshert.
Our Sages teach us that since creating the world, God has spent His time creating couples. When two people find each other, and find the power of love within them, we believe that their union is what God wants, provided that they do so in an appropriate way.
That's what we are celebrating today. Our tradition tells us that God celebrated the marriage of the first people created, and rejoiced with them in the Garden of Eden. And every time that original union is recreated by the union of two people who love each other, God is present there as well, joining in the celebration.

YEHI RATZON SHE-K'SHEM SHE-ANU SEMEICHIM U'MESAMCHIM HA-YOM
KACH YESAMACH HASHEM ET CHAYEINU
B'CHOL HA-TOV U-V'CHOL HA-BERACHAH SHE-BARA LANU.
MAY IT BE HASHEM'S WILL
THAT AS WE ARE REJOICING AND CELEBRATING TODAY,
SO MAY HASHEM BRING JOY INTO OUR LIVES,
WITH ALL THE GOOD AND ALL THE BLESSING THAT HE HAS CREATED FOR US.


"The cities of Judea. The suburbs of Jerusalem."
The prophet Isaiah prophesied that these would be filled with rejoicing and celebration. For thousands of years, our people have clung to that belief. We affirm it at every wedding celebration, singing the words over and over. Letting the joy of those occasions convince us that such wonderful things really could happen.
Did we really believe it? Could we possibly have imagined such a thing? Look around you. Look out the windows and see where you are right now. The Judean Hills. Our home. What an amazing zechut (merit) we have even to set foot in this place, let alone to live here every day of our lives.
When we celebrate the union of two people, with love and joy, we do not do so in a vacuum. We do not shut out the world and celebrate in private. Our celebrations include friends, family, community, and they partake of the past and the future; not merely the present.
We see ourselves as part of a story. A story that has gone on for millenia, a story that is not done yet. And as we have looked back into our past and affirmed our awareness of what has come before us, so do we look into our future and add the joy of what is to come to that which we celebrate today.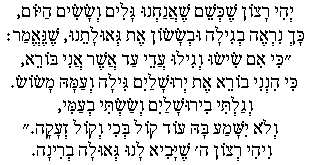 YEHI RATZON SHE-K'SHEM SHE-ANACHNU GALIM V'SASIM HA-YOM,
KACH NIR'EH V'GILAH U-V'SASON ET GE'ULATEINU, SHE-NE'EMAR:
"KI IM SISU V'GILU ADEI AD ASHER ANI BOREI,
KI HINENI VOREI ET YERUSHALAYIM GILAH V'AMAH MASOS.
V'GALTI VIY'RUSHALAYIM V'SASTI V'AMI,
V'LO YISHAMA BAH OD KOL B'CHI V'KOL ZA'AKAH."
VIY'HI R'TZON HASHEM SHE-YAVI LANU GE'ULAH V'RINAH.
MAY IT BE HASHEM'S WILL THAT AS WE ARE GLAD AND JOYFUL TODAY,
SO MAY WE SEE OUR REDEMPTION IN GLADNESS AND IN JOY,
AS IT IS WRITTEN:
"ONLY BE GLAD AND REJOICE FOREVER FOR WHAT I AM CREATING,
FOR BEHOLD, I AM RECREATING JERUSALEM AS 'GLADNESS',
AND ITS PEOPLE AS 'JOY'.
FOR I WILL BE GLAD ABOUT JERUSALEM AND REJOICE WITH MY PEOPLE,
AND THERE WILL NO LONGER BE HEARD IN IT THE SOUND OF WEEPING
AND THE SOUND OF OUTCRY."
AND MAY IT BE HASHEM'S WILL
THAT HE BRING US REDEMPTION WITH JUBILATION.
After this last blessing is recited, the wine in the two cups is mixed together and both women drink from it, symbolizing the fact that their commitment and their joining the community as a couple are a single thing.
After this, they break a glass, to remind us that even in the midst of our greatest joy, the redemption we pray for has still not arrived.