A Guide to the Ceremony
B
RIT
A
HAVAH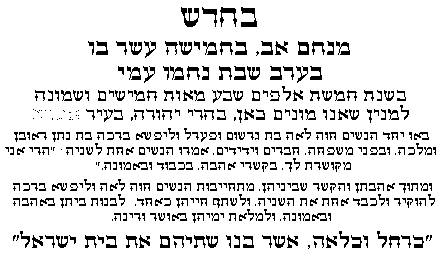 IN THE MONTH OF MENACHEM AV, ON THE FIFTEENTH DAY
ON THE EVE OF SHABBAT NACHAMU AMI
In the year Five Thousand, Seven Hundred and Fifty Eight, according to the
accustomed counting of years here, in the Hills of Judea, in the City of Efrat
Havah Leah Hope and Lisa Beth Liel came together before family, friends and all
those dear to them, and said to one another: "Behold I am bound to you, with ties
of love, in honor and in faith."
And out of their love and the bond which exists between them, Havah Leah and
Lisa Beth have agreed to value and respect each other, and to join their lives
together as one. To build their home in love and faith, and to fill their days with
happiness and joy.
LIKE RACHEL AND LEAH,
WHO BUILT BETWEEN THEM THE HOUSE OF ISRAEL