Havah & Lisa's Commitment Ceremony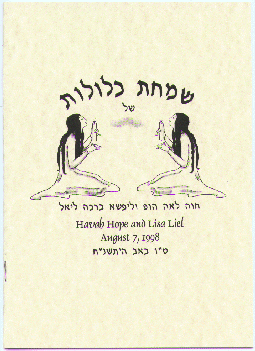 On August 7, 1998, Havah and I got married. It was a Friday afternoon wedding, which is apparently an old Polish custom which Havah had read about in a historical novel. It was especially nice, because most of the people who were at the ceremony (and a few who weren't) stayed for Shabbat. Including all the children, there were about 24 of us for Shabbat, and it was wonderful. It was truly a family event, including our parents, who were the only blood family in attendance, but including as well all of our dear friends who could make it.
It was also Tu B'Av, the fifteenth day of the Hebrew month of Av, which had a number of special significances. One is that two years earlier, on Tu B'Av, Havah went to Amuka, near Tzfat (Safed), and prayed that she should find her beshert (her match). Another is that Tu B'Av is traditionally a day of matchmaking and love. Still another… well, one of our friends gave a talk about the meaning behind Tu B'Av that I plan to include here with her permission. You'll see it when you get there. <grin>
I promised people beforehand that I'd put the ceremony we wrote up on the web. Well… this is it. There's not a lot I can say about it that it doesn't say itself. Click the booklet cover to get the table of contents.
text and arrangement © 1998 by Lisa Liel and Havah Hope
illustrations © 1998 by Devo
photo of Havah and Lisa © 1998 by Tomboychik Productions